Keo nối mi AMAZING GLUE :
-Khô : từ 1-2 giây
-Bền 4-6 tuần
-Độ ẩm 35-55%
-Nhiệt độ làm việc 18-26•C
Hướng dẫn sử dụng:

Mở chai keo và dùng một miếng giấy thấm bịt chặt lên nắp chai. Lắc đều trong khoảng 30-60 giây. Nhỏ keo thành từng giọt riêng lẻ trên đá đựng keo.

Chấm lượng keo vừa đủ cho từng kỹ thuật nối mi.
Cách bảo quản keo:

Đặt keo trong hũ kín có chứa chất hút ẩm.
Bảo quản trong điều kiện thoáng mát, tránh ánh nắng mặt trời.
Hạn sử dụng của keo:

 6 tháng đối với mùa nóng và 10 tháng đối với mùa lạnh khi chưa mở nắp tính từ ngày sản xuất dưới đáy chai keo.

Lưu ý: keo chỉ sử dụng tốt nhất từ 4-6 tuần khi mở nắp.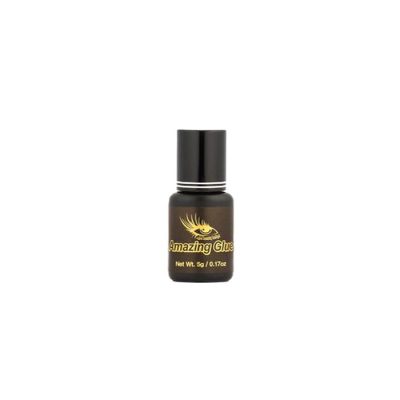 – For professional use only.
– Do not self apply.
– Make sure eyes are closed tightly until lashes are fully dry.
– Direct contact to the skin can cause irritations. In case of contact, rinse well and consult a physician.
– Store adhesive in a cool place, avoid direct sunlight.
– Optimal temperature for this adhesive is 18°C – 27°C, with humidity of RH 35-55%
– Suitable for winter climates
– Drying time 1-2s. Retention 4-6 weeks.
– Shake well for at least 30 seconds before use.
– LATEX FREE.
Ingredients: Cyanoacrylate, PMMA, Hydroquinone, Carbon black
Made in Korea
The production date is printed on the bottom of the bottle. Expiry date is 10 months from the production date.