– A set for coloring eyebrows and eyelashes, preparation for the procedure and subsequent care
– Includes everything you need
– Genuine product
The kit includes:
– 6 shades of henna for eyebrows in jars of 0.18 oz (5 g):Cocoa, Classic brown, Coffee, Olive brown, Almond, Golden wheat.
– Eyebrow shampoo
– Eyebrow primer
– Oil for eyebrows and eyelashes
– Eyebrow paste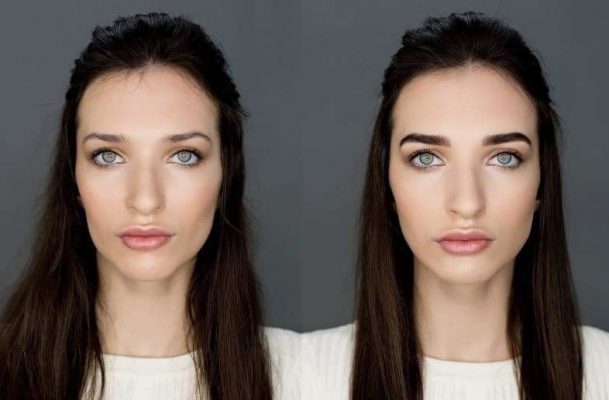 Instructions for using henna for eyebrows:
1. Wash eyebrow hairs with eyebrow shampoo (Brow Shampoo).
2. Clean the skin in the eyebrow area with a degreasing agent (Brow Primer).
3. With eyebrow paste create an clear eyebrow contour (Brow Paste)
4. Pour a small amount of eyebrow henna powder (about 2 grains of rice) into a glass jar and mix with 3-6 drops of water. It should make a mass resembling soy sauce. Stir the compound thoroughly to make the mass uniform.
5. Strictly for the desired shape of the eyebrows, apply a thin, even layer. If necessary, you can apply another 2-3 layers after complete drying of the previous layer. The saturation of the resulting hue depends on the number of layers.
6. The exposure time is 15-20 minutes from the beginning of the moment of staining. From the time of exposure depends on the intensity of color.
7. There are several ways to remove the composition:
Method 1: remove henna from the eyebrows with a cotton pad moistened with water;
Method 2: for a more lasting effect, soften henna from the eyebrows with a cotton pad dipped in oil (Brow Oil), then remove the residue with an eyebrow brush.
Attention!
Do not remove the composition until the henna is completely dry.
Do not use if skin is damaged in the staining area.
24 hours prior to staining, test for allergies on the elbow ben